Thank you very much for shopping online at Town East Ford.com about your next vehicle needs. Right now is a great time to buy! We are offering top dollar for trade-ins, have a large inventory to choose from, have amazing deals on our new and pre-owned inventory and there are a number of rebates and incentives right now to help save you even more money.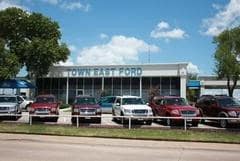 Town East Ford, is a family owned dealership for the past 38 years,where our only priority is you. At Town East Ford, we take care of you like our family. We will work diligently to get you the right vehicle at the right price.
So, while you will receive personal, hands-on service, you'll also get the benefit of bigger savings that we pass on thanks to our volume-buying power.
Come experience the Town East Ford Difference where:
You and your needs come first!
We treat you like family. Here, you are among friends.
We take care of you long after you drive away.
We offer 24/7 Roadside Assistance on all our New vehicles.
We provide Free Shuttle Service (within a certain radius).
You will be contacted by an Internet Manager not a Salesperson. they will walk you through the entire buying process. By contacting us online, you will receive additional Internet Incentives and assistance, including:
A low price from the beginning for a no-hassle, no-haggle buying experience. The ability to apply and get pre-approved for credit on a secure site from the comfort of your own home or office.
You can fill out the majority of your paperwork from your home or office to minimize your time in the showroom.
And that's just the beginning!


Should you have immediate questions, please give me a call at our toll free number 1-866-561-3490 or
Come and visit Town East Ford conveniently located at 18411 LBJ Freeway, Mesquite, Texas, 75150
Reasons to buy your New Ford from Town East Ford
There are many advantages to shopping Town East Ford online for your vehicle purchases, but the best reason is our no hassle - no nonsense pricing.
Our pricing is provided up-front on the vehicle listed above.
Many area dealers will try very hard not to give you this information. They may tell you that they (I will Beat any deal you have) but they do not provide the honest information you seek.
Others provide prices, but "Forget" to tell you about dealer added equipment and charges until you show up to actually purchase the vehicle.
You will not experience those questionable tactics here! Our pricing is legitimate and extremely competitive....with no added surprises later.