Town East Ford is elated to be the leading supplier for the Ford Escape in TX. Town East Ford is a Mesquite Ford dealership and carries a vast inventory of New Ford Escape and top quality, high value used Ford Escapes and other cars & trucks.
When consumers compare the Ford Escape to other makes like the Chevrolet Equinox, Toyota RAV4 and Honda CR-V, the 2011 Ford Escape shines as the most fun-to-drive. Starting with the 2010 Ford Escape, owners found this affordable Compact SUV 's crisp handling and lively acceleration to be reason enough to choose.
You'll go for the Ford Escape affordable compact suv when you browse Town East Ford in Mesquite
Since 2001, The Ford Escape has been an affordable Compact SUV. This compact Crossover has come a long way since its debut, now featuring several technologically advanced features, including SYNC Infotainment System, Sirius Travel Link System, Ford Voice Activated Navigation, Ford HD Radio, and Programmable MyKey. Known for its versatility, the Ford Escape offers drivers options ranging from a leather-lined Limited trim level to a Ford Escape Hybrid. Town East Ford in Mesquite - Mesquite has the best selection of all new 2011 Ford Escape in the Mesquite area, so stop by today and start driving the reputable Escape.
Escape has proven to be an outstanding, well designed vehicle that is here to stay. It holds its own among Ford?s line of heavy duty haulers. With rugged detailing, chrome grille, oversized side mirrors, lower body moldings, and a range of bold wheel options available in 16- and 17-inch sizes, Escape demonstrates that it?s ready for anything. Test drive Escape FWD, Escape XLT, or the Escape Limited at Town East Ford in Mesquite - Mesquite today!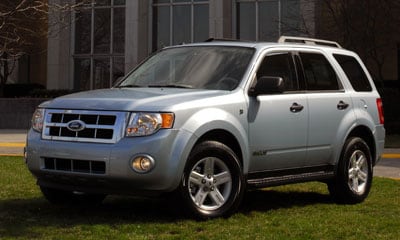 The Escape V6 Engine upgrades the available power to 240 hp. The Escape Hybrid is the most fuel-efficient vehicle in its class, proving its ability with 34 mpg city and 31 mpg highway. Further, this fuel efficient economy car doesn't compromise on seating capacity or cargo room, proving that the Escape Hybrid is equally as versatile and comfortable as any other Escape. Convenience and safety upgrades are the biggest changes for the 2011 Escape. MyKey is now available for Escape, which allows permanently engaging the traction control system, setting the audio system's maximum level to 44 percent of the full volume, and limiting the top speed of the vehicle. MyKey joins a long list of standard safety features, like antilock brakes and AdvanceTrac with Roll Stability Control. Ford's Personal Safety System integrates the front airbags and a sensor system to offer more precise protection for passengers. Stop by Town East Ford to find your Escape, and hit the open road.
Adding to the list of accolades is Active Park Assist. The Escape can automatically steer itself into a parking space while the driver controls the pedals. Features like Park Assist can be found on luxury vehicles, but it is a standard feature in Escape, which is both effective and easy to use. Town East Ford in Mesquite - Mesquite, TX proudly offers the Escape, and invites you to come browse our selection!
With the Ford Escape Base Price $19,960, the fuel-efficient crossover is both fun to drive and affordable. The reasonably priced Escape XLS carries a 2.5-liter Duratec four-cylinder engine with Intake Variable Cam Timing (iVCT). Escape 5-Spd Manual Transmission is standard; however it is also available as a six-speed automatic. The Escape is economical, with EPA fuel economy estimated at 21 mpg city and 28 mpg highway with the automatic. The manual provides one extra mile per gallon in the city. Fuel economy remains strong in Escape 4WD, at 19 mpg city and 25 mpg highway. Aerodynamic changes, including an electric power steering system, a lower front air dam, and low-rolling resistance tires lead to a more serene cabin environment and improved efficiency. Ask Town East Ford in Mesquite about Escape today!
Here's why the Ford Escape is good enough to be your favorite affordable compact suv in lovely TX
Town East Ford offers the Ford Escape, a 4-door Compact SUV which seats 5 people suitably. The Escape weighs 3,477 pounds, is 174.7 inches long, 71.1 inches wide, 67.8 inches high, and the Ford Escape's turning radius is 18.3 feet. astonishingly uncrowded for its class, the Escape has 40.4 inches of headroom in the front, as well as 41.6 inches of legroom. In the Escape's back seat, there are 39.2 inches of headroom and 35.6 inches of legroom. Need to bring a lot of luggage on your next trip? The Escape trunk holds up to 31.4 cubic feet of your stuff. So, take it easy and have fun!
Standard Ford safety features included in the Escape are: traction control, anti-lock brakes, side airbags, driver airbags, side-impact bars, seat-belt pre-tensioners, and passenger airbags. With all of these features, the Ford Escape is always exceptionally rated by the IIHS and NHTSA.
The Escape also has an abundance of comfort and convenience features including: power steering, remote locks, power windows, power mirrors, climate control, cruise control, air conditioning, power seats, an adjustable steering wheel, and more! Especially convenient are the available hands-free phone and navigation systems. Test drive the Ford Escape in Mesquite at Town East Ford.
Like all Ford cars & trucks, road handling and performance are top priorities for the Escape. Passing horsepower in the base Escape is 171 hp @ 6000 rpm, and it produces excellent torque - 171 ft-lbs. @ 4500 rpm foot pounds/rpm. The Escape accelerates quickly from 0 to 60 mph in just 8.7 seconds. If you want to go fast, the Escape has a top speed of 102 miles per hour. Despite this excellent power train output, the Ford Escape's fuel economy is rated at 20 miles per gallon in the city and 26 highway miles per gallon. With a fuel tank capacity of 16.5 gallons, the Escape cruising range is well above average, truly making it a performance car!
The Ford manufacturer's warranty covers the Escape for manufacturing defects and has a 3 Years / 36,000 miles Ford warranty. Ford has worked for years to minimize its environmental impact, and the Escape's carbon footprint is rated very low. Not surprisingly, with all of these Escape advantages, this great Ford Compact SUV retains a high percentage of its value at 3 years and 36,000 miles, which makes the Ford Escape a great used buy!
When seeking a safe, economical, sporty and stylish Compact SUV , Mesquite - Mesquite consumers should head to the Ford dealer of choice, Town East Ford at 18411 LBJ Freeway in Mesquite - Mesquite TX.
Ford Escape service information for Mesquite
Ford Escape owners and lessees in Mesquite have found that Town East Ford at 18411 LBJ Freeway in Mesquite - Mesquite is the very best choice for Escape warranty work, regular maintenance & inspections, and mechanical repairs. At Town East Ford, Certified Ford Technicians trained in the very latest diagnostic and corrective techniques work for only one thing - your complete satisfaction. Whether it's time for your Ford to have an oil change or tire rotation, or if you need regular Escape Scheduled Maintenance, Town East Ford is your first choice. Wheel alignments are another specialty of our Certified Ford Techs, and here at 18411 LBJ Freeway, we are the smartest choice in Mesquite for quick, courteous, and professional Ford Service of all kinds.
If you'd like to make an appointment to have your Escape serviced, click the link or just give us a call. See you soon.