Town East Ford is moved to be the commanding source for the Ford Taurus in Texas. Town East Ford is a Mesquite Ford dealership and carries a colossal inventory of New Ford Taurus and top quality, high value used Ford Tauruss and other cars & trucks.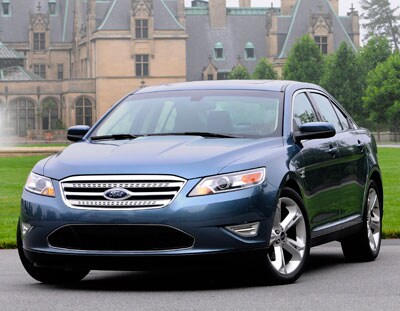 When shoppers compare the Ford Taurus to other makes like the Toyota Avalon, Buick LaCrosse and Chevrolet Impala, the 2011 Ford Taurus shines as the most fun-to-drive. Starting with the 2010 Ford Taurus, owners found this affordable Sedan's crisp handling and lively acceleration to be reason enough to choose.
You'll go for the Ford Taurus affordable large car when you visit Town East Ford in Mesquite
America's most innovative full-size sedan is back with the new 2011 Ford Taurus. Ranked #1 among affordable large cars by USNews.com, the Ford Taurus has reclaimed its throne as the king of the family sedan. With a Taurus redesign in 2010, the attractive Ford Taurus once again stands out from the Toyota Avalon, Buick LaCrosse and Chevrolet Impala as a reliable, comfortable, and stylish sedan. Check out a new 2011 Ford Taurus at Town East Ford in Dallas today!
The Ford Taurus hit the scene in 1985 as a 1986 model year vehicle, and immediately became an all-American favorite. This affordable large car appealed to families and single urbanites as a reasonable alternative to the Honda Accord and Toyota Camry. The six-seat sedan featured more room than its contemporaries, and highlighted 4 varied Trim Levels, including the L, MT-5, GL, and LX. The Taurus's base engine was a 2.5 liter 4-cylinder that put out 90 horsepower. Safety improvements and amenities were added over the years, and in 1992, Ford reworked the body of the Taurus, adding new panels and updating the exterior lights. These types of changes continued until 2010 when Ford completely revamped the Taurus with stylish new looks and updated engines and amenities. Check out a used Ford Taurus from Town East Ford and ask us about special offers and financing options.
The Taurus is available in 4 different Trim Levels from Town East Ford. The 2011 model year Taurus comes in the SE, SEL, Limited, and the high performance Taurus SHO.
MyKey is standard on all 2011 Taurus Trim Levels at Town East Ford. The programmable MyKey is a device that assists younger drivers in safe driving habits with helpful warning chimes for seatbelts and low gas levels. The Limited and SHO Trim Levels include SYNC, the in-car connectivity system. SYNC allows you to easily operate the most popular MP3 players and Bluetooth-enabled phones with simple voice commands. SYNC's Health Report allows you to create a personalized online report of your vehicle's diagnostics. SYNC also includes traffic directions and information, making your next trip easier, and more importantly, safer.
As an option on the Limited and SHO models, Taurus offers the Ford Voice Activated Navigation System and the SIRIUS Travel Link System. With these devices, drivers can get directions, information on traffic backups, gas prices, and current weather conditions. The 3-D mapping panel combined with GPS makes turn-by-turn directions a breeze, and you never have to worry about getting lost again. Once you park, you can even watch DVDs on the console screen! Ask a sales representative from Town East Ford about these great extras and packages for each Taurus Trim Level.
The 2011 Taurus SE comes standard with 17-inch alloy wheels, a 6-speaker stereo with CD player and MP3 capability, keyless entry, a 3.5 liter Duratec V6 with 6-speed automatic transmission, and AdvanceTrac with Stability Control. Automatic headlights make daily driving easier while a 6-way powered driver's seat insures a comfortable trip. The Taurus at Town East Ford is ranked #1 by U.S. News among affordable large cars; stop in and see why.
The Taurus SEL at Town East Ford adds additional features like 18-inch painted sparkle silver aluminum wheels, a six-speed automatic with steering wheel mounted shifter paddles, a leather-wrapped steering wheel with audio controls, and SIRIUS Satellite Radio.
The high class 2011 Taurus Limited keeps the perks of the SE and SEL but adds: an upgraded stereo, a beautiful wood-trimmed steering wheel, a reverse sensing system and rear view camera, ambient lighting, a memory set driver's seat with 10-way powered controls and lumbar support, and powered windows. Ask Town East Ford to put you in a Taurus Limited today!
The newest addition to the Ford Taurus lineup at Town East Ford is the SHO. The Taurus SHO features a powerful 3.5 liter EcoBoost V6 engine with all-wheel drive, Intelligent Access with Push-Button Start, and leather-trimmed bucket seats with Miko Suede inserts. Look forward to SHO's sport-tuned suspension and xenon headlamps when driving those winding roads late at night. The Taurus SHO also highlights many of the features of the Trim Levels above but adds upgraded leather upholstery, a rear spoiler, and an auto-dimming exterior driver mirror. Check out the fun to drive Taurus SHO at Town East Ford, and get into the action.
Here's why the Ford Taurus will be your desired affordable large car in fascinating Texas
Town East Ford offers the Ford Taurus, a 4-door Sedan which seats 5 people sufficiently. The Taurus weighs 4,224 pounds, is 202.9 inches long, 76.2 inches wide, 60.7 inches high, and the Ford Taurus's turning radius is 19.8 feet. astonishingly ample for its class, the Taurus has 39 inches of headroom in the front, as well as 41.9 inches of legroom. In the Taurus's back seat, there are 37.8 inches of headroom and 38.1 inches of legroom. Need to bring a lot of luggage on your next trip? The Taurus trunk holds up to 20.1 cubic feet of your belongings. So, take a break and enjoy!
Standard Ford safety features included in the Taurus are: traction control, anti-lock brakes, side airbags, driver airbags, side-impact bars, seat-belt pre-tensioners, and passenger airbags. With all of these features, the Ford Taurus is always remarkably rated by the IIHS and NHTSA.
The Taurus also has an abundance of comfort and convenience features including: power steering, remote locks, power windows, power mirrors, climate control, cruise control, air conditioning, power seats, an adjustable steering wheel, and more! Especially convenient are the available hands-free phone and navigation systems. Test drive the Ford Taurus in Mesquite at Town East Ford.
Like all Ford cars & trucks, road handling and performance are top priorities for the Taurus. Passing horsepower in the base Taurus is 263 @ 6250 rpm, and it produces excellent torque - 249 @ 4500 rpm foot pounds/rpm. The Taurus accelerates quickly from 0 to 60 mph in just 6.9 seconds. If you want to go fast, the Taurus has a top speed of 133 miles per hour. Despite this excellent power train output, the Ford Taurus's fuel economy is rated at 17 miles per gallon in the city and 25 highway miles per gallon. With a fuel tank capacity of 19 gallons, the Taurus cruising range is well above average, truly making it a performance car!
The Ford manufacturer's warranty covers the Taurus for manufacturing defects and has a 3 Years / 36,000 miles Ford warranty. Ford has worked for years to minimize its environmental impact, and the Taurus's carbon footprint is rated very low. Not surprisingly, with all of these Taurus advantages, this great Ford Sedan retains a high percentage of its value at 3 years and 36,000 miles, which makes the Ford Taurus a great used buy!
When seeking a safe, economical, sporty and stylish Sedan, Dallas shoppers should head to the Ford dealer of choice, Town East Ford at 18411 LBJ Freeway in Dallas Texas.
Ford Taurus service information for Mesquite
Ford Taurus owners and lessees in Mesquite have found that Town East Ford at 18411 LBJ Freeway in Dallas is the very best choice for Taurus warranty work, regular maintenance & inspections, and mechanical repairs. At Town East Ford, Certified Ford Technicians trained in the very latest diagnostic and corrective techniques work for only one thing - your complete satisfaction. Whether it's time for your Ford to have an oil change or tire rotation, or if you need regular Taurus Scheduled Maintenance, Town East Ford is your first choice. Wheel alignments are another specialty of our Certified Ford Techs, and here at 18411 LBJ Freeway, we are the smartest choice in Mesquite for quick, courteous, and professional Ford Service of all kinds.
If you'd like to make an appointment to have your Taurus serviced, click the link or just give us a call. See you soon.