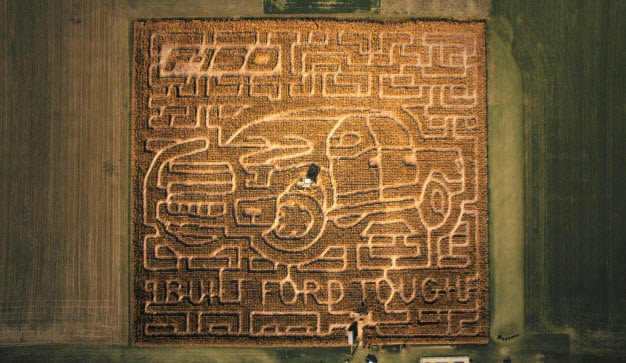 It's not every day that you come across a Ford F-150-inspired corn maze, but that's exactly what you'll find when visiting Leaders Farms just outside of Napoleon, Ohio. Laid out across seven acres, the maze, which serves as a tribute to the all-new F-150, will entertain local children and adults all throughout the fall season.
Creating corn mazes is somewhat of a tradition at Leaders Farms. The family who owns the land have been amusing Midwestern families for years with their detailed, complex corn mazes, which can often take up to an hour to successfully complete.
For years, they've come up with a series of unique designs to utilize in the creation of their mazes. And, as a family of Ford lovers, they decided to model this year's maze after the brand-new F-150.
"My husband Brad was reading a magazine last winter and saw the new F-150 design and loved it," said Kristin Leaders of Leaders Farms. "We thought it would really stand out as the feature of this year's corn maze."
To ensure they were able to complete their mission, the Leaders family spent a year designing the maze, and when it came time to carve it out, they used GPS to get the cut just right. In addition to the maze, they also have a pumpkin cannon, known as Big Jack, mounted to a restored Ford F-450 Super Duty, which you can view in the video below.