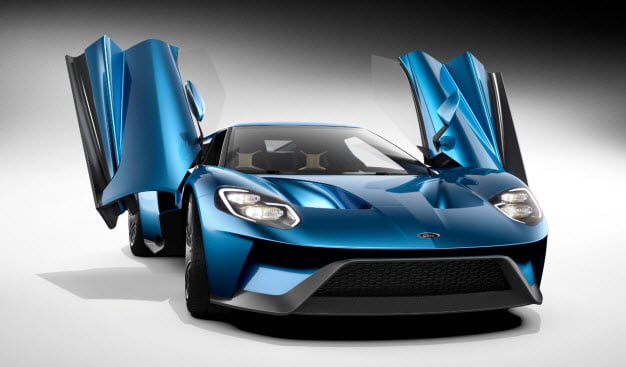 The release date for the all-new Ford GT has yet to be announced; however, that hasn't stopped the supercar from scooping a series of prestigious awards before its arrival. Due its collection of innovative technologies and overall performance abilities, the upcoming GT was recently the North American 2015 Production Preview Concept of the Year and the Most Significant Concept Vehicle of 2015. Noted as one of the most highly-anticipated models of the year, the resurrected Ford GT is guaranteed to be a showstopper when it hits the market within the next year.
The all-new Ford GT beat out 29 vehicles to receive the Concept of the Year title. This year marks the fifth time Ford has been given the accolade and the 20th time the automaker was considered a finalist. Showcasing a carbon fiber lightweight body, a range of technologies, including SYNC 3 infotainment, and a 600-horsepower 3.5L EcoBoost V-6 engine, the 2016 Ford GT is an extraordinary supercar that is set to take the automotive world by storm. Just in time to celebrate the nameplate's 50th anniversary, the new GT is the perfect addition to Ford's impressive lineup.
When the all-new Ford GT lands on the market, be on the lookout for its arrival at Town East Ford. Aside from the GT, we have an excellent selection of first-class cars, trucks and SUVs.