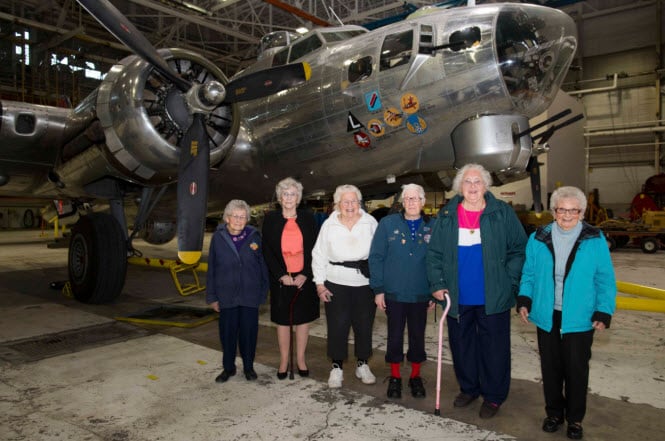 ?
Ford takes the time to celebrate the essential role of women in history each year, and for 2016, the automaker decided to honor the original Rosie the Riveters. To show their appreciation for their contributions to our country, Ford sent 30 members of the group on a flight to Washington D.C., where they were applauded for their efforts.
If you're not familiar with Rosie the Riveters, here's a brief history lesson. The historic group emerged in the 1940s when millions of men across the country went overseas to fight in World War II. With few men around to help build machines of war, many women decided to step up and enter the workforce. These women became known as Rosie the Riveters.
The sacrifices and contributions women made during the '40s ultimately helped our country win World War II and Ford Motor Fund, along with Talons Out Honor Flight and Yankee Air Museum, recently decided to pay tribute to some of these amazing women by flying them out to Washington D.C. Ranging from ages 88-89, the group of original Rosies were given a tour of the World War II Memorial during their visit and treated to a special luncheon at the Library of Congress on Capitol Hill.
Joining the ladies during their luncheon were members of Congress from Michigan - the birthplace of Ford. Ypsilanti, Michigan, is also home to Ford's Willow Run Bomber Plant, which aided the country's crusades by producing B-24 Liberators that were used in battle. During this time, the plant had over 42,000 workers; one-third of them were women.
"These women not only helped win a war, they paved the way for future generations to achieve economic and personal independence," said Jim Vella, president, Ford Motor Company Fund and Community Services, the philanthropic arm of Ford. "It is an honor to celebrate their vital contributions to our country and the cause of freedom."