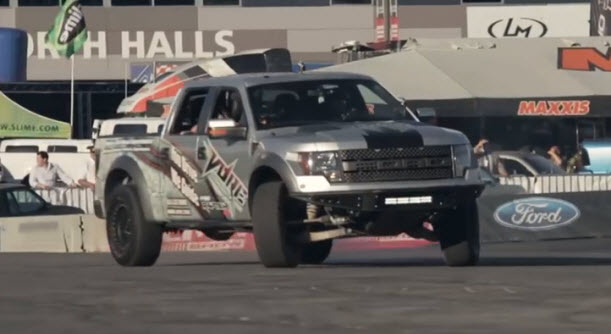 The 2014 SEMA Auto Show showcased a great variety of outstanding cars from some of the biggest names in the automotive world, but while attendees were enjoying the sights inside, there was a whole other party going on outdoors. Complete with incredible stunts and tricks, the star of this party was none other than the Ford Raptor.
Through a partnership with Vegas Off-Road Experience, a company that takes tourists off-roading, Ford created a makeshift course in a nearby parking lot outside of SEMA. They then let VORE have their own exhibition, which allowed certain spectators to ride shotgun in a Raptor as it went over jumps, drifted along pavement and tackled patches of uneven terrain. Additionally, a few Mustangs and a Fiesta were brought out to get in on the action. They whipped around the parking lot, amusing spectators standing by and leaving them in awe of Ford's performance-oriented lineup.
Watch the complete video of the Ford Raptors gliding across the parking lot outside of SEMA below. You can also get your very own 2014 Ford Raptor in Mesquite at Town East Ford today! Also, keep your eyes peeled for the new 2015 Raptors coming out soon.