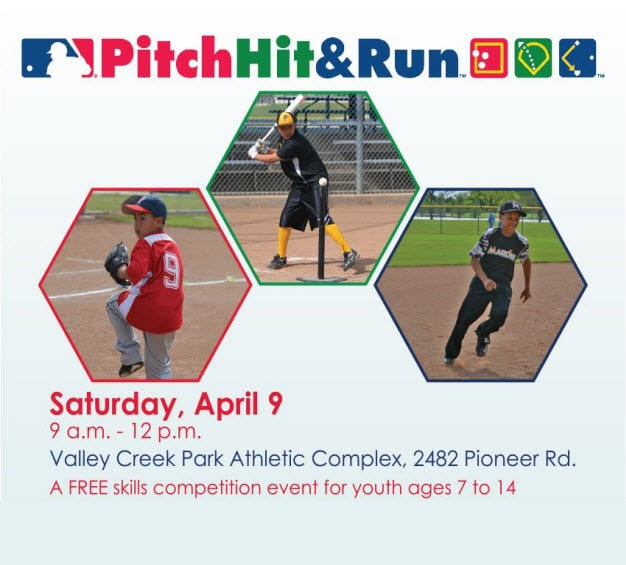 Boys and girls ages 7 to 14 are encouraged to come out to Valley Park Athletic Complex (2482 Pioneer Road) on Saturday, April 9, to participate in this year's Pitch, Hit & Run skills contest. Sponsored by Major League Baseball, this national competition gives kids from across the country the chance to show off their hitting, pitching and running talents.
From 9 a.m. to 12 p.m. on Saturday, April 9, young athletes within the Mesquite community will be able to put their baseball skills to the test and see if they have what it takes to make it to the Pitch, Hit & Run National Finals. Scheduled to be held at the MLB All-Star game in San Diego, Calif., on Tuesday, July 12, the National Finals will give athletes with the highest cumulative scores the opportunity to perform in front of the masses and be crowned one of the best child athletes in the nation.
If you'd like to register your son or daughter to participate in the Pitch, Hit & Run skills competition, you can do so from now until Friday, April 8. Take a look below to view the official registration locations and get them signed up as soon as possible!
Registration Locations:
Dunford Recreation Center (1015 Green Canyon Drive)
Evans Recreation Center (1116 Hillcrest Street)
Florence Recreation Center (2501 Whitson Way)
Rutherford Recreation Center (900 Rutherford Drive)
Administration Office (1515 North Galloway Avenue)