2011 Ford Flex Introduction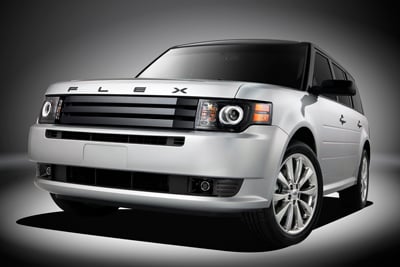 The Ford Flex is a full-size crossover utility vehicle that can seat up to seven adults and carry luggage or groceries at the same time. It's the modern-day equivalent of what used to be the family station wagon, but no station wagon can match the comfort, utility, capabilities or driving enjoyment of the Flex.
The Flex has three rows of seats, with a standard 2-3-2 layout or optional 2-2-2 configuration. It's built on a passenger-car platform, as opposed to that of a body-on-frame truck, and thus has the basic stance and friendly driving characteristics of a car.
The Flex is larger and roomier than the Ford Edge, and its three-row seating allows it to carry more people, and in more comfort. Its passenger-car platform makes it lower and more carlike than the Explorer or Expedition, and thus easier to drive and live with in daily use. Competitors for the Flex include the Chevrolet Traverse, GMC Acadia, and Buick Enclave, though they are quite different in a variety of ways.
Fuel economy is an EPA-estimated 17/24 mpg City/Highway for a front-wheel-drive Flex, 16/22 mpg for the base-engine all-wheel-drive model, and that's on Regular 87 octane gasoline.
The Flex offers a choice of V6 engines: the relatively conventional 3.5-liter Duratec, and the more powerful 3.5-liter EcoBoost. EcoBoost utilizes advanced turbocharging technology to deliver the fuel efficiency of a smaller engine with the power and performance of a larger engine. EcoBoost includes two turbochargers and direct fuel injection. The 3.5-liter V6 EcoBoost engine in the Flex is rated at 355 horsepower and 350 pound-feet of torque, yet with little penalty in fuel economy compared to the standard non-EcoBoost 3.5-liter V6, which is rated at 262 horsepower. In the Flex, the EcoBoost engine is available only with all-wheel drive.
For 2011, Ford has added the new flagship Titanium model, featuring an abundance of sinister-looking blackout trim (inside and out), relieved by 20-inch, five-spoke Luster-Nickel wheels. The voice-activated navigation package now includes HD radio. Limited and Titanium models offer optional one-touch PowerFold and tumble third-row seating. And some new option packages are available.