Ford Dealership in Dallas Reviews the 2013 C-Max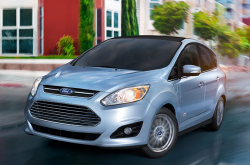 Scroll down to read Town East Ford's full review of the new 2013 C-MAX and C-MAX Energi. If you're shopping for a hybrid or plug-in utility vehicle, you've reached the right page! Below the video walk-around tour section, you'll find in-depth information about the C-MAX's powertrain, MPG, available colors, cabin amenities, safety technologies and more. For further details, you can visit the digital showroom links in the review below.
Those in the market for a gas-electric car with plentiful interior volume and the utility of a crossover SUV need look no further than Town East Ford. Many shoppers choose the 2013 Ford C-MAX in Dallas over its top competitor, the Toyota Prius v utility. And many Texas shoppers looking for a plug-in option are choosing the C-MAX Energi over the Toyota Prius Plug-in. Statistics show that 70 percent of C-MAX buyers across the country are first time Ford shoppers, and that the C-MAX far outsold the Prius v in its first full month of sales.
There is a more appealing hybrid utility in town and you can find it at your local Dallas area Ford dealer - Town East Ford. Scroll down to learn more about the 2013 C-MAX and C-MAX Energi now.
2013 Ford C-Max Features Video
Ford C-Max Comparisons & Quick Specs
Compare the 2013 Ford C-Max to vehicles like the 2013 Nissan Rogue, Chevrolet Equinox and the Toyota Prius V, and you'll realize that the C-Max wins over the competition in many areas. Catch a glimpse of our Quick List below to find out why!
2013 Ford C-Max MSRP: $25,200
2013 Ford C-Max Body Style(s): Hatchback
2013 Ford C-Max Cargo Space: 19 cubic feet
2013 Ford C-Max MPG: 47 city / 47 highway
2013 Ford C-Max Colors: Ice Storm, Tuxedo Black, Blue Candy, Ruby Red, Oxford White, etc...
2013 Ford C-Max 0-60 MPH in 8.3 seconds
2013 Ford C-Max Seats: 5 passengers
Learn About the 2013 Ford C-Max's New Features
Maintaining the Quality & Value of Your New Investment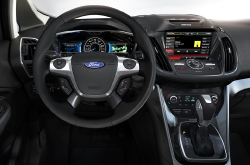 Don't go to a conglomerate car repair shop in Dallas when Town East Ford's wonderful C-Max experts are only a quick cruise away from your neighborhood. We also give a lengthy warranty on our work - more than most conglomerate shops do. The well-versed technicians at our Ford repair division in Dallas will help your C-Max run perfectly. In addition to labor intensive work like engine maintenance, we handle less time consuming stuff like tire alignment and checks - and this is just a fraction of what we handle. Also come see us for serpentine belt replacement, speedy oil changes and more. Make a positive choice when figuring out a place to have your Ford C-Max repaired, and consider this: At Town East Ford you can always expect superior service and affordable prices on Dallas car repair. The upcoming link is your boulevard to outstanding savings. Click now to be taken to to Town East Ford's specials.
Dallas-Ft. Worth Hybrid Shoppers Want the 2013 Ford C-Max's Class-Leading Efficiency!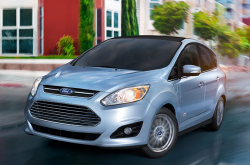 Test drive the new 2013 C-MAX at Town East Ford today! The dealership is conveniently located at 18411 LBJ Freeway and serves several local cities. If you're shopping for a Ford C-MAX in Dallas, Mesquite, Rockwell, Garland, Rowlett or any other nearby city, it's worth making a trip to Town East Ford.
Both the C-MAX and C-MAX Energi offer class-leading efficiency, beating out the Toyota Prius v and Plug-in. Texas residents who are shopping for a plug-in will also be happy to know that the C-MAX Energi delivers best-in-class horsepower, so you don't have to trade off muscle for efficiency. Town East Ford is proud to offer the 2013 Ford C-MAX to Dallas-Fort Worth area residents with a variety of financing options and incentives available.
Stop by today for a test drive and learn about current dealership specials that may be available to you at the time of your visit. To receive notifications about Town East Ford's specials throughout the year, as well as limited-time manufacturer incentives, please subscribe to our monthly enewsletter or connect with us online by liking Town East Ford's Facebook and Twitter pages.