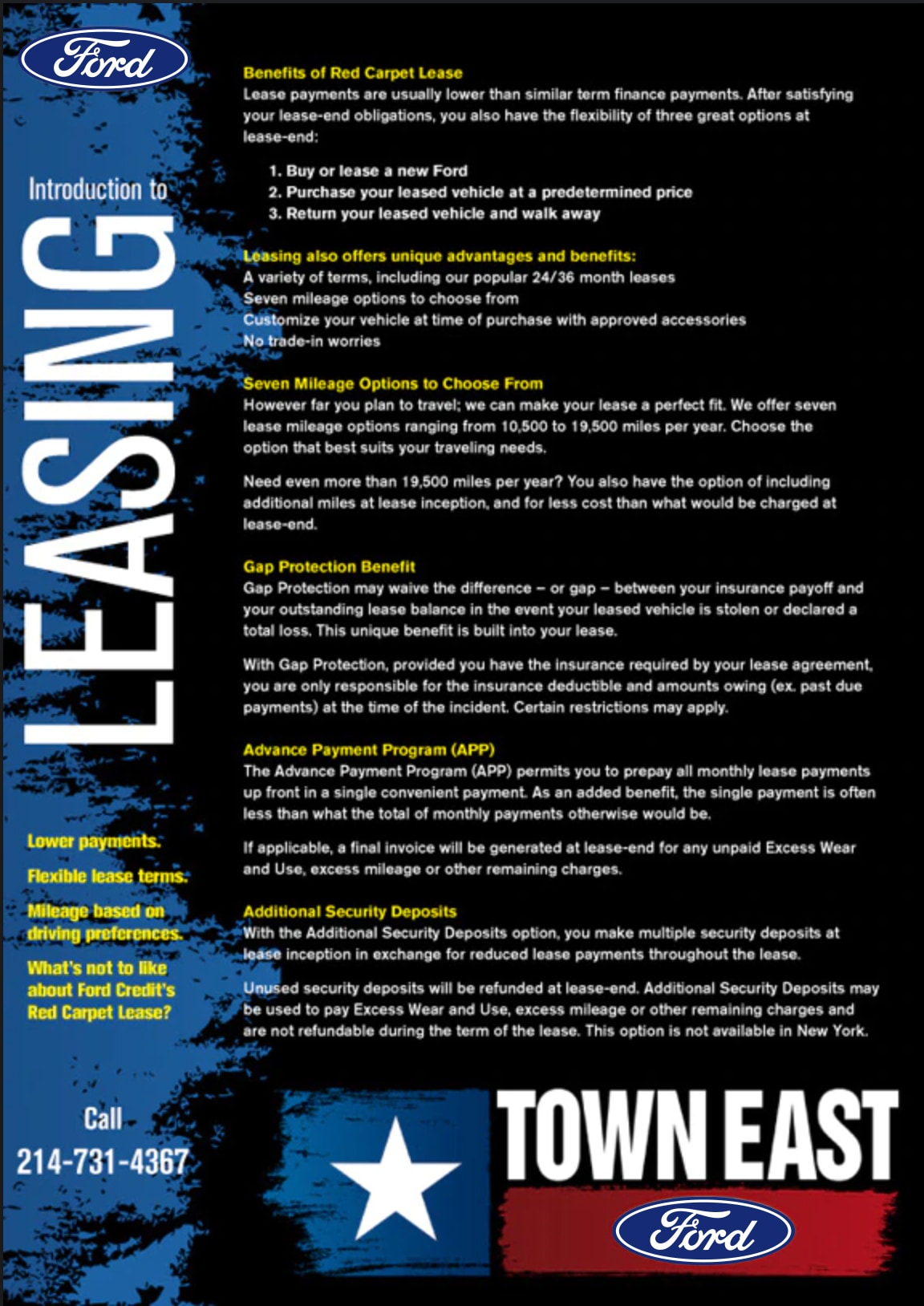 Town East Ford is a great place to lease a new car, truck or SUV in Mesquite. From affordable lease terms and no down payments to gap protection and multiple mileage options, there are many benefits to leasing your next new car from our dealership. If you're in search of a new Ford and looking to stay within a fixed budget, take a look at our lease benefits below. You'll quickly discover the advantages of leasing a car at Town East Ford.
Low Monthly Payments
Those who choose to lease a new car often benefit from low monthly payments. In fact, lease payments are generally 30-60 percent lower than purchase loan payments, making leasing a top choice among car shoppers on a budget. Due to low lease payments, lessees can also typically get into a more expensive Ford car for less, which is a huge draw for most people.
GAP Protection Benefit
Newly leased Ford cars come backed by GAP Protection, which may waive the difference between your insurance payoff and your lease balance in the event your car is considered a total loss or stolen. Unlike many manufacturers, Ford includes GAP Protection in every lease to ensure lessees are always covered.
New Car Warranty Coverage
In addition to GAP Protection, Ford also includes a new car warranty plan with every new car lease. During the length of the warranty, which typically lasts throughout the first three years, many of your car's parts will be covered, saving you from having to pay for expensive repairs. If you obtain a lease term that coincides with the length of the warranty, you can make sure your car is covered as long as it's in your possession.
Seven Mileage Options to Pick From
Ford is proud to offer seven different mileage options for lessees to take advantage of. These options range from 10,500 miles to 19,500 miles per year, benefiting those with different driving needs. On top of these ranges, Town East Ford is also able to offer additional mileage to drivers who rack up more than 19,500 miles on the odometer per year.
Contact us at Town East Ford for additional information regarding leasing benefits and our current lease offers.