Town East Ford Examines 2013 Ford E-Series Vans in Mesquite, TX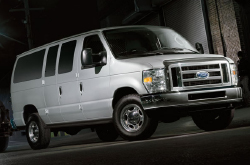 Town East Ford examines the ultra-adaptable 2013 Ford E-Series Van for Dallas metro-area businesses. The ideal mobile service unit, the 2013 Ford E-150 Cargo Van meets all your combined crew and cargo needs. The base E-150 begins with 50/50 swing-out rear doors and 60/40 swing-out side doors for easy access to tools and gear. There's plenty of room to carry everything your two-man technician team needs with 237.8 cubic feet of cargo room. For larger operations, the E-250 offers additional crew seating to carry up to five team members. Whether you're carrying delectable delights to a catering gig in Dallas or you're sending a team of HVAC repair technicians on an emergency service run to Garland, a 2013 Ford E-Series Van offers all the features you need to take care of your customers. Ford's reliability has made the E-150 a top choice for American business over the past three decades. Read further and discover all the advantageous features available for Ford's E-Series Vans in Texas.
2013 Ford E-150 Walk-around Video
Salient Ford E-150 Specifications
Comparing the 2013 Ford E-150 head-to-head with against vehicles like the 2013 GMC Savana, Mercedes Benz Sprinter, Chevrolet Express and the Nissan NV, and you will see that the 2013 E-150 ranks above the competition in numerous areas. Take a look at our bullets to see why!
2013 Ford E-150 MPG: 13 city / 17 highway
2013 Ford E-150 Seats: 2-15 passengers
2013 Ford E-150 Body Style(s): Passenger Van
2013 Ford E-150 MSRP: $26,800
2013 Ford E-150 Colors: Steel Blue, Vermillion Red, Oxford White, Black, Pueblo Gold, etc...
2013 Ford E-150 Cargo Space: 237.8 cubic feet
2013 Ford E-150 0-60 MPH in 8.6 seconds
New Features Available on the Ford E-150 in Dallas
Dallas Ford E-150 Owner Warranty Info & Safety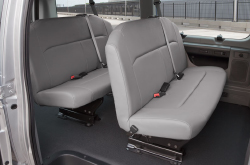 Don't wander to a conglomerate car repair shop in Dallas when Town East Ford's spectacular E-150 experts are only a brisk journey away from where you live. We also guarantee a extensive warranty on our work - more than most conglomerate shops do. Keep your E-150 running well; have it serviced by Town East Ford's helpful car repair whizzes. In addition to arduous work like muffler maintenance, we work on less tricky stuff like front and rear brake pad swaps - and this is merely a fraction of what we handle. Also come see us for serpentine belt replacement, ordinary oil changes and more. Also, Town East Ford's always got fair prices on Ford repairs in Dallas, even for straightforward OEM recommended maintenances. Check out our service specials by clicking on the link below.
Keep your Texas Service Crews On-Track in 2013 Ford E-Series Vans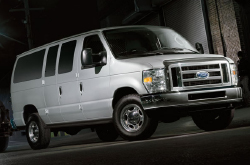 Now that you've read our 2013 Ford E-Series review, you may be in a quandary as to which model and package is right for your needs. Town East Ford's knowledgeable staff is here to answer your questions about best choices for your economic and practical requirements. Ford's E-Series Vans and Wagons come with an array of customizable rack-and-bin packages suited to appliance repair, HVAC, plumbing service or any business use under the sun. Depending on the size of your fleet, you may find the Crew Chief™ fleet management tool helpful, as it supplies real-time operating data which helps fleet managers develop better scheduling practices. Another E-Series option is an instrument panel-mounted Navigation System with touch-screen display, which is a major time-saving tool that keeps individual field teams on-course and on-schedule while serving your Dallas-area clientele. Talk to us today at Town East Ford in Mesquite, Texas, for more details on the options that best fit your business needs.