Ford Mustang Review for 2013 Model Year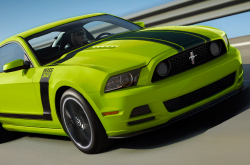 When you were a kid, you probably remember seeing (and hearing) your first Mustang: its distinctive, muscular looks, powerful presence and deep-throated growl probably left quite an impression. You see these things as a kid and think, One day I'll get one of those. Years pass, and for one reason or another, you settle for a Toyota or Honda. All that changes when one day you find yourself at a four-way intersection. Directly across from you sits a 2013 Ford Mustang. Since it's based on the '69 model, you remember its looks, its power and its incomparable presence. All of a sudden, you're that young kid again. But this time things are different; this time you can make it yours.
Consider this 2013 Ford Mustang review your wake-up call. This article is the Mustang revving its engine across from you at the four-way stop. Don't wait any longer for this legendary muscle car to be yours! Learn all about the various models and trim levels available to Ford Mustang shoppers in Mesquite, Dallas and Garland. Will it be the economical V6 convertible or coupe, or the high-performance GT or Boss 302? You be the judge! Watch the video below and read on to learn more.
Mustang Video Review - Specs, Features & More
Quick Stats for the Ford Mustang
By examining the 2013 Ford Mustang head-to-head with the 2013 Hyundai Genesis, Dodge Challenger, Chevrolet Camaro and the Nissan 370Z, and you can see that the Mustang beats out those autos in oodles zones. Scan the hightlights below.
2013 Ford Mustang 0-60 MPH in 5.4 seconds
2013 Ford Mustang Body Style(s): Coupe, Convertible, Shelby GT500
2013 Ford Mustang Colors: Gotta Have It Green, Race Red, Black, School Bus Yellow, Grabber Blue, etc...
2013 Ford Mustang Seats: 4 passengers
2013 Ford Mustang MPG: 19 city / 29 highway
2013 Ford Mustang Cargo Space: 13.4 cubic feet
2013 Ford Mustang MSRP: $22,200
Notable Amenities on the New 2013 Ford Mustang
Peace of Mind Comes Built into the 2013 Ford Mustang
Maintaining Your Investment - We're Here to Help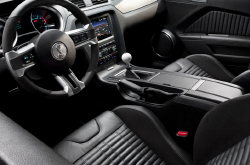 Feel the resassurance that comes along with attaining topnotch repairs by Ford trained technicians, a full year warranty on all jobs, and bona fide Ford parts. At our Dallas area repair center, this and more is available for Ford Mustang drivers. When you bring your Mustang to our auto repair unit in Dallas, you'll get topnotch service from our certified mechanics. Just a chunk of the jobs our Ford repair specialists do includes wiper blade replacement, muffler repair and easy conventional filter and oil changes. Town East Ford is your clear winner in Dallas for fast, professional Ford Mustang repairs and regularly scheduled maintenance. Click the upcoming link to be taken to to Town East Ford's service coupons.
The 2013 Ford Mustang Gives Dallas-Area Drivers an Affordable Muscle Car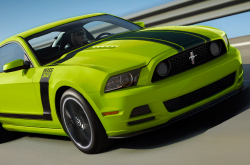 Edmunds.com writes, "Though this generation of Mustang is nearing the end of its lifecycle, the 2013 Ford Mustang remains the top muscle car and one of the best bang-for-the-buck deals." So if it's time to make your childhood dreams become a reality, visit Town East Ford; there's never been a better time to buy. Our talented and knowledgeable staff will assist you in finding the Mustang that matches your specifications to the letter. We have a large inventory of V6 coupes and convertibles, GT500s and Boss 302s on our lot and ready to go. Be sure and ask about various Ford Mustang add-ons and package options to complete your purchasing experience.
Financing is available on the 2013 Ford Mustang for our Dallas-area customers. Our team of finance experts will craft a plan that fits your budget and doesn't crimp your style. We work with a wide variety of lenders and can shop around to find the most affordable rates and monthly payments. If you have any questions on the Mustang, financing, or the benefits of buying or leasing, simply fill out the inquiry form on the right-hand side of this page and we'll get back to you as soon as possible.