C-Max Update from Dallas Ford Research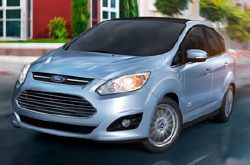 The 2014 Ford C-MAX Hybrid and Energi plug-in hybrid are on sale in Mesquite, TX and this year both offer even better fuel economy! If you're shopping for a gas-electric car in Texas, choose one that is beloved by its owners, and one from an automaker that continuously challenges industry standards. In J.D. Power's latest APEAL study, surveys revealed that C-MAX owners consider their cars "more luxurious" and "more innovative" than the competition and, most notably, they gave their cars exceptionally high scores in a wide range of areas.

For 2014, Ford is stepping up its game by setting new fuel efficiency benchmarks for electric-powered vehicles. With an impressive 500-mile range, the Energi plug-in hybrid achieves a greater fuel economy equivalent (mpge) than the Chevy Volt and Toyota Prius plug-in when in electric mode. The Prius v is also surpassed in fuel economy by the C-MAX Hybrid, which delivers class-leading city and highway mpge. Equipped with the next generation of Ford's highly praised powersplit technology, both vehicles can operate in electric mode at faster speeds than any of their segment competitors. Additionally, the Hybrid has received several updates that aid to its boost in fuel economy, including new transmission gearing, rear lift gate deflectors, pillar moldings, a new hood seal and friction-reducing engine oil. Check out the rest of our 2014 Ford C-MAX review to find more useful vehicle specs.

Owners of the C-MAX will enjoy an optimized hybrid experience, no matter the model or trim level selected. All feature the latest installment of SYNC with MyFord Touch, a feature that informs, enlightens and engages drivers, while empowering them to increase fuel economy. Contact or visit Town East Ford to learn more about each model's standard and available features; plus, find the 2014 Ford C-MAX for sale in Mesquite with pricing specials and incentives that will help you save big on your purchase.
Town East Ford's 2014 Ford C-MAX review continues below. Scroll to the bottom of the page to watch a video walk-around tour!