Learn More About the New Expedition From Town East Ford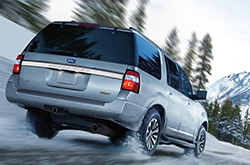 The 2015 Ford Expedition is a full-size SUV that is capable of handling just about anything that's thrown its way. It comes with ample cargo space, a heavy duty powertrain and an excellent selection of technologies that help improve the driving experience for all occupants. In addition to its amenities, the Expedition also features an aggressive exterior styling and upscale leather treatments inside the cabin. To learn more about the SUV's enhancements and exceptional qualities, read our 2015 Ford Expedition review below for exclusive information.
Redesigned for 2015, the Ford Expedition offers buyers a sufficient amount of great high-tech features that provide assistance when needed and also allow them to stay connected while on the go. SYNC with MyFord Touch, one of Ford's leading infotainment systems, is outfitted in the cabin and comes packed with first-class features, such as Bluetooth Audio Streaming, voice-activated calling, 911 Assist, audible text messages and MP3 player charging. On top of this system, the 2015 Ford Expedition in Mesquite also sports a range of advanced safety technologies that improve security, such as blind spot detection and forward/reverse sensing - each outstanding components.
Backed by a 3.5L EcoBoost V6, the Ford Expedition produces optimal power. The EcoBoost V6 outputs 365 horsepower and 420 lb.-ft. of torque, which is supported by a six-speed SelectShift automatic transmission, delivering top-notch performance. For those who prefer driving a stick shift, the transmission will also feature a manual mode, allowing drivers to use a shift-mounted rocker switch to select different gears. Additionally, the 2015 Ford Expedition in Mesquite will offer buyers a 9,200-pound towing capacity with the extended length variant, making transporting items a cinch.
To learn more about these features along with others, continue reading our comprehensive 2015 Ford Expedition review for extra details.�