Dallas Ford Dealer Researches the New F-150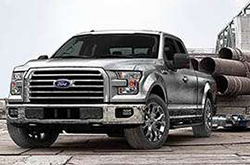 Back again and all-new for 2015, the Ford F-150 makes its presence known in the full-size truck segment with its incredible features and capabilities. This year, the best-selling pickup strips away most of its steel components and emerges with a brand-new aluminum body that is much lighter and stronger. To complement its fresh structure, the 2015 Ford F-150 also comes with a collection of upgraded technologies and ample powertrains. You can read about them all in our 2015 Ford F-150 review below, along with additional info about the F-Series Super Duty lineup.
The 2015 Ford F-150 in Mesquite gives drivers more power to utilize this model year with the addition of two new engines: a 2.7L EcoBoost and a 3.5L V-6. Each variant produces top-notch power, increases fuel efficiency and delivers optimal performance - a plus for buyers everywhere. In addition to these changes on the F-150, the F-Series F-250, F-350 and F-450 have received towing and engine upgrades for 2015. The F-350's towing capacity has increased to 31,200 pounds and the F-450's has risen to 26,700 pounds. Aside from this, the 6.7L Power Stroke V-8 turbo diesel, outfitted on all F-Series models, has seen an improvement in power and can now output 440 horsepower and 860 lb.-ft. of torque.
Outside of the powertrains and towing capabilities, the Ford Super Duty models remain unchanged this year; however, the F-150 gets a host of brand-new equipment options. The 2015 model sports an assortment of advanced safety features, including lane-keep assist, second-row inflatable seatbelts, blind spot monitoring and a 360-degree camera, which assists drivers when pulling out of parking spaces. On top of these amenities, the 2015 Ford F-150 in Mesquite also comes with integrated loading ramps and trailer hitch assist, simplifying the towing and transporting process for frequent haulers.
Are interested in learning more about the F-150? Continue reading our 2015 Ford F-150 review for extra info.