Dallas Ford Dealer Researches the New Fiesta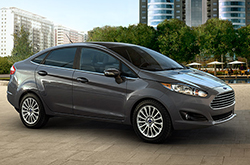 The popular 2015 Ford Fiesta makes its way into the small-car segment this year, showing off a collection of all-new appearance options that complement the model's overall styling. Fresh interior trim, a graphic package and upgraded tires enhance the Fiesta's aesthetic and draw in new fans from across the country. Additionally, the inclusion of a fresh paint color gives buyers another option to choose from, further improving the subcompact's charm. To learn more about these additions, read our 2015 Ford Fiesta review for details and find out information about the car's incredible powertrains as well.
Refreshed this year, the 2015 Ford Fiesta in Mesquite debuts with a variety of improvements that cater to its appearance. A new exterior paint color, Magnetic Metallic, has been added to the color palette for 2015, while the fabric seat trim within the cabin has been revised for comfort. In addition to this, the Fiesta SE and SE appearance package is now available with eight-spoke alloy wheels and 16-inch all-season tires. A Lower Door Stripe Graphic Package is now be offered on S, SE, Titanium models as well, giving buyers a choice between a black or silver themed graphic to boost their car's appearance.
When it comes to power offerings, the 2015 Ford Fiesta in Mesquite comes with two choices: a 1.6L four-cylinder and a 1.0L EcoBoost turbocharged three-cylinder. The former, standard on all models, produces 120 horsepower and 112 lb.-ft. of torque, while the latter exerts 123 horsepower and 125 lb.-ft. of torque. Both engines are matched with a five-speed manual transmission and deliver top-notch performance, but if you want something with a little more power, you may want to get a Fiesta ST model instead. It comes with a 1.6L four-cylinder that outputs 197 horsepower and 202 lb.-ft. of torque, satisfying buyers with a need for speed.
Want to find out more details about the subcompact Fiesta? Keep browsing our 2015 Ford Fiesta review for additional information.�