2015 Ford Transit Reviews from Town East Ford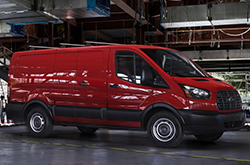 Ford's excellent lineup of commercial vans have made their way onto the scene for 2015, offering fantastic features that are perfect for small and large business owners. This year, the incredible roster includes three unique models: the 2015 Transit, Transit Connect and Transit Connect Wagon, which each provide first-class configurations for hauling and transporting equipment. With outstanding powertrains and top-notch amenities, the Transit lineup is one of the best available. You can read about each model in our 2015 Ford Transit review and acquire further information about their phenomenal qualities.
The newest and largest van in the bunch for 2015 is the standard Transit. It comes with a high-powered 3.5L EcoBoost engine that outputs 400 lb.-ft. of torque and a whopping 487.3 cubic feet of cargo space - perfect for hauling loads of equipment. In addition to these benefits, it also offers two wheelbases, three body lengths and three roof heights, giving buyers a range of options to choose from. Slightly smaller than the 2015 Transit in Mesquite, the Transit Connect is a great option for small business owners. It boasts a 1,600-pound payload and comes equipped with either a 2.5L or 1.6L EcoBoost four-cylinder that are both fuel efficient and powerful. On top of this, the van also comes with SYNC with MyFord Touch, an infotainment system that gives drivers access to multiple in-car features, such as SiriusXM Radio, navigation and Bluetooth - each excellent components.
For those who require a little less space than what the 2015 Transit Connect in Mesquite has to offer, the Transit Connect Wagon is the way to go. The miniature-sized van comes in two wheelbase lengths and is available with a rear liftgate to make loading items easier. Additionally, the Connect Wagon comes with your choice of a 2.5L Duratec of a 1.6L EcoBoost four-cylinder. Both variants work together with a six-speed automatic transmission to produce an exceptional ride and first-rate performance.
To learn more about the Transit models, continue reading our 2015 Ford Transit review below for more details.