The air conditioner in your Ford may be a feature that you take for granted most of the time, and you may not give it a second thought until trouble develops. Driving around town in a hot car can be almost unbearable at times, but this is only one of several issues that you may have to deal with if your air conditioner is not in good condition. Regardless of how seemingly minor or substantial your AC repair needs are, rest easy knowing that our certified techs have the parts, equipment and knowledge required to quickly remedy the problem for you.
The High Setting on My Air Conditioner Does Not Work. Can You Help?
On warmer days of the year, you may understandably try to crank the settings of your Ford AC system up to full power so that the strongest flow of chilled air hits your skin. The frustration that you can feel when an adjustment of the AC settings produces no response can be intense. Weak AC airflow in all makes and models is common. Numerous causes may be to blame, such as damage to the seals and hoses or mold on the case of the evaporator. As soon as you bring your Ford to our dealership for auto repair service, we will diagnose the problem for you. You can typically expect us to complete the repair project without delay and to your satisfaction.
Warm Air Is Blowing Through the Air Vents. Can You Service My Ford AC System?

By turning your air conditioner on, you expect to quickly feel the pleasant sensation of chilled air across your skin. However, this cooled air may quickly turn into warm air that makes you feel uncomfortable in the car. This could be caused by issues with the fuses, seals, compressor clutch or valves. There is also a possibility that no chilled air blows, and only warm area is generated from the AC system. Leaking Freon as well as damage to the condenser, vacuum seals, blower or compressor may be the culprit for this type of issue. We always complete a thorough diagnostic before beginning AC repair work so that we produce desired results quickly.
Why Is My Ford Air Conditioner Leaking?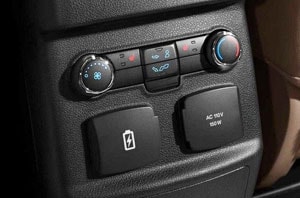 Some drivers believe that their vehicle has an air conditioner leak because of condensation under the car when the AC is running. This is a normal liquid byproduct, but there are instances when the AC unit is leaking because of damage to the system. Leaking fluids that come from even a small hole or gap can allow moisture into the AC unit components. Refrigerant that interacts with this moisture may be corrosive. Corrosion can deteriorate the components in your system, resulting in the need for a full AC replacement. Any suspected leaks should be examined by a professional.
My Ford Stinks When the AC Is On. Can You Clean the AC System?
Cleaning a vehicle's air conditioner system is essential from time to time. The best way to clean the system is to replace the air filter several times per year. Keep in mind that a dirty air filter can cause the car's interior to smell like rotten eggs or filthy socks. If the drain line in the AC unit is clogged, moisture can spill out onto the evaporator case. Mold is common in this type of situation. Whether you need the mold issue addressed or you need the air filter replaced, we are available to work for you. Contact us today to make your AC repair appointment with our team.