Transmissions are one of the most important components in your car. Because transmission service schedules are normally infrequent, people often believe that having their transmissions serviced according to the manufacturer's recommended guidelines is unimportant. But nothing could be further from the truth.
Transmission maintenance schedules can vary widely. For cars with automatic transmissions that are driven lightly in undemanding climates, simply checking the fluid every 100,000 miles may be all that's needed. However, cars with CVT transmissions that are driven in hot climates and under significant loads may need to be serviced far more frequently. If you are unsure of how often you should take your Ford or other car in to have its transmissions serviced, our expert techs can help you to determine an appropriate service schedule that is all but guaranteed to keep your transmission running in top order for years to come.
When Should I Change My Transmission Fluid?
The correct time to change transmission fluid varies tremendously from one car to another. The general rule is that the hotter the average climate in which you drive your car, the more complex the transmission and the higher the loads that are put on that transmission, the more frequently you should have your transmission fluid changed.
Should I Have a Professional Take a Look?

It is also important to know that when you take your Ford vehicle into our dealership to have the transmission fluid changed, our techs use that opportunity to run sophisticated tests on your transmission, making sure that there are no incipient faults that could later turn into a catastrophic problem. Especially when it comes to transmissions, prevention is the best cure.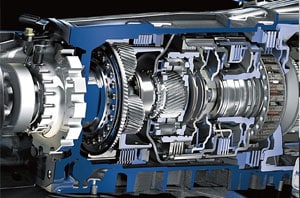 Our team of expert technicians can examine the transmission fluid itself, looking for any signs of metal or fiber debris that may indicate wearing seals, gaskets or gears. At the same time, our techs have access to the most advanced and sophisticated diagnostic tools, which are specifically made to keep Ford vehicles on the road as long as possible. Getting your transmission serviced by our team of experts is the single best way of protecting your car against a catastrophic transmission failure.
Should I Attempt to Change My Own Transmission Fluid?
Few people like to change their own oil. Even this can be a challenging process on some new cars for those without the adequate experience, knowledge and tools. But changing transmission fluid represents a much more serious challenge. The car will need to be lifted into the air and, usually, the person changing the transmission fluid will have to do so while underneath the car, risking being burned by hot fluids and hit with falling parts, not to mention the extreme risks posed by working under a vehicle for those who may not be up to speed on the proper way to do so.
The car will also often need to be running and may need to be placed in neutral. Even for highly experienced mechanics, this is a potentially very dangerous process that needs to be carried out with extreme care. Therefore, we strongly recommend that you bring your vehicle in for maintnance. We offer many service specials to ease the cost of repairs.