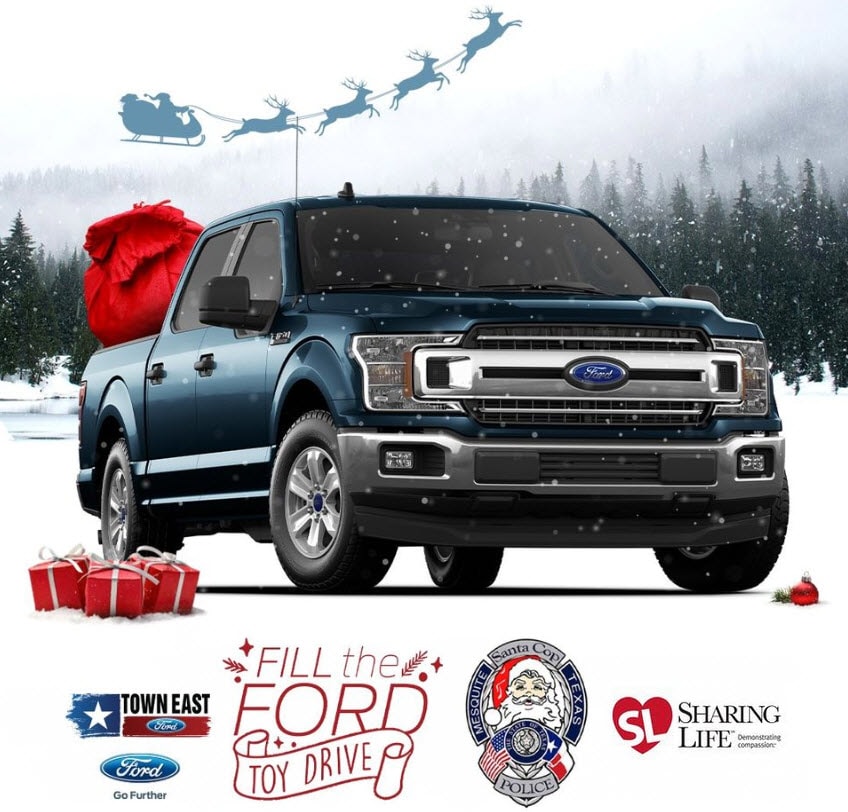 As we near the end of an unprecedented year, there is a great need to help our community. We want every child to have a gift to open and every family to have food on the table for the holiday season. That's why Town East Ford has teamed up with the Mesquite Police to collect toys for Santa Cops, and we're also collecting food for Sharing Life Community Outreach.
During our "Fill the Ford" toy and food drive, we're aiming to fill up three F-150 trucks with loads of goods for local families in need. We're thankful to all of the team members at Town East Ford who have already contributed, and we'd like to invite you to participate!
Simply drop off unwrapped gifts and/or nonperishable food items at our dealership. We're accepting donations now through Dec. 12, 2020. Please feel free to contact us with inquiries.
We wish you good health, prosperity and happiness as you head into the new year! Happy holidays to you and your loved ones!
About Santa Cops
The Santa Cops program was created by Dallas Police officers in 1984. The program is designed to give back to members of the community who have been crime victims. Members of the Dallas Police department fill out request forms nominating local families who meet the criteria for the program. Santa Cops has assisted more than 10,000 families since its start.
About Sharing Life Community Outreach
Sharing Life Community Outreach offers several vital services to the local community. In partnership with the North Texas Food Bank, they provide a "client service food pantry." The organization also provides disaster assistance, educational programs, clothing, homeless assistance, summer meals, and other services.